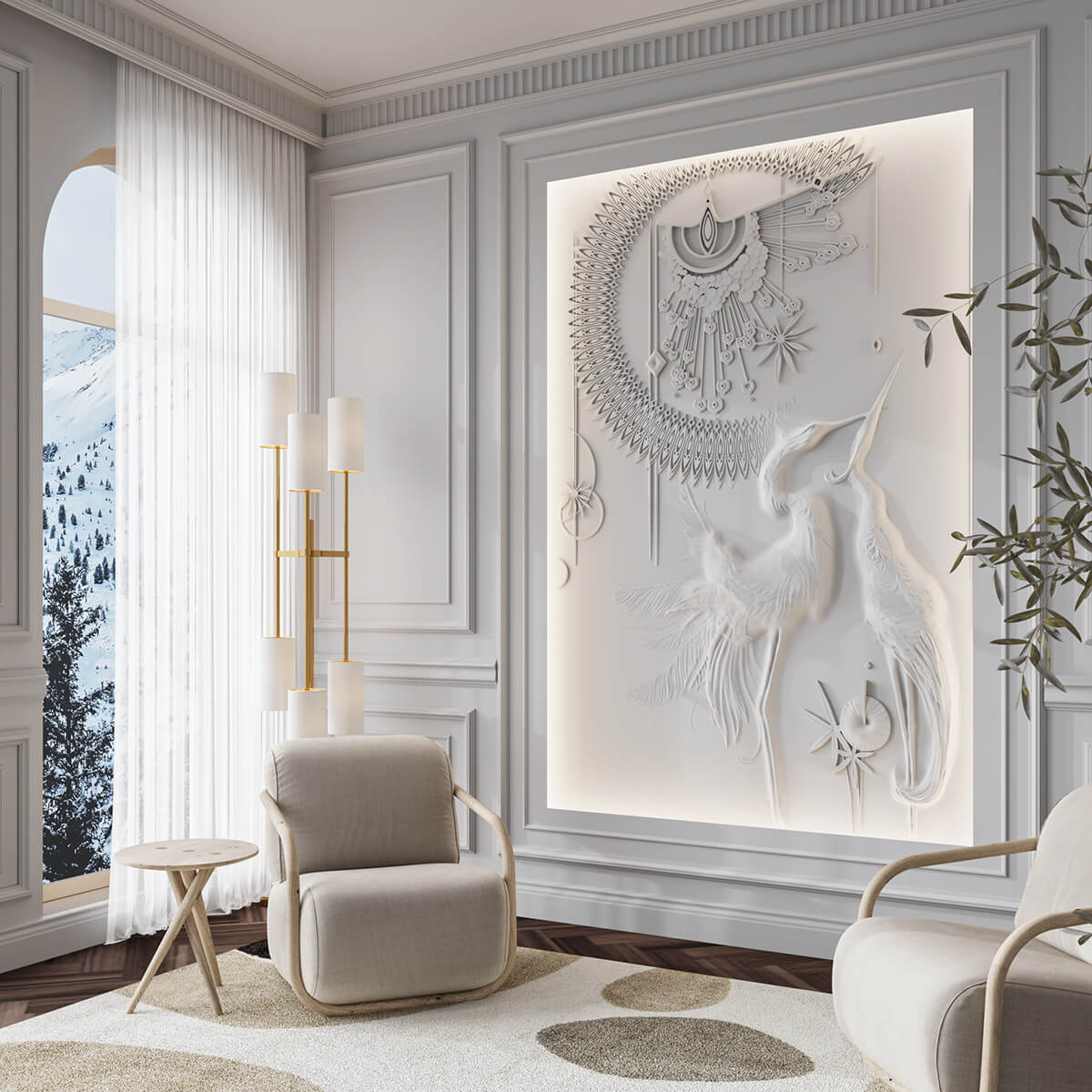 Acrylic panels are a modern finishing material that began to be used in the interior relatively recently, but quickly gained popularity among users due to its unique properties. The combination of strength, lightness, beauty and low cost makes this product a universal choice for interior design. Panels can be used for both walls and furniture facades. Acrylic surfaces are used in the kitchen, bathroom, living room, bedroom, hallway and even children's rooms. This material is used in private homes, apartments, public buildings, retail premises, and offices. Aesthetic appearance, excellent characteristics and unpretentiousness in care ensure that acrylic is widely used. These are not the only advantages of the product, so you should carefully study all the characteristics of the material before buying.
Properties of acrylic panels
Today on the market you can find many variations of acrylic panels – matte, glossy, transparent or colored. The appearance of the material depends on its composition. Produce products as follows:
Produce grinding of the MDV plate;

Then a primer is applied to it, and then covered with a curing agent;

After that, the product is primed;

Use the printer to apply colors to the panel.

Last of all, the plate is covered with acrylic and an adhesive composition is added. Thus, hot facing of the product is made.
To give the finished panels special strength, UV treatment is used. Thanks to this technology, the separation between layers disappears, the material becomes complete and very smooth. For high resistance of acrylic to external influences, protective compositions are used that increase its tolerance to moisture and temperature fluctuations. The processed product becomes immune to scratches and sunlight.
Main advantages of acrylic wall panels:
High strength, it is very difficult to break the product with your hands;

Light weight, which allows you to easily move and install plates without overloading the walls of the room;

Long service life and abrasion resistance;

Preserving the original appearance for a long time;

The material does not deteriorate or burn out from sun exposure.

The product does not absorb odors, does not promote the reproduction of pathogens and mold;

Environmental friendliness and safety for human health make acrylic panels a universal choice for any room;

Unpretentiousness in care due to the smoothness of the surface, sometimes it is enough to wipe the product with a damp sponge with detergent;

Moisture resistance makes it possible to use the material even in the kitchen and bathroom;

A wide variety of shades and patterns allows you to choose the right design for any room.
Acrylic panels have other advantages, for which they are so loved by users. But the material also has disadvantages – a relatively high price, which is not inferior to traditional finishing products.
Where can I use my products?
Acrylic wall panels are distinguished by a variety of types and design solutions, so they are used almost everywhere. Environmental friendliness and safety of products allows you to place them even in children's rooms, and they also look great in any other room. Country houses, apartments, offices, banks, restaurants, public buildings – this material will be appropriate everywhere. In private homes, such panels are most often used in such rooms:
Kitchen;

Bathroom;

A corridor.

Living room;

Bedroom;

Childish.
How the installation works
Any user can install panels, since this process is not difficult at all. Installation of products is carried out at the end of the repair, when the main work is done. To place slabs on walls or other surfaces, follow these steps::
Cleaning and preparing the work area by sealing cracks. If the walls are curved, this will not be a problem, since the sheets will be placed on a special frame.

Installing the crate. It can be either metal or wood, the choice depends on the room where the panels are installed. In rooms with high humidity, preference should be given to metal, because wood does not tolerate contact with water well.

Fixing panels with self-tapping screws on the frame. This process is not very different from working with drywall sheets. Holes on the plates are closed with plugs.
Conclusion
Acrylic panels are an aesthetic and modern solution for quickly giving the room an expressive appearance. The glossy sheen of the facades or the transparency of the partitions will create a bright accent and draw attention to the interior. The performance characteristics of such products favorably distinguish them from other materials. Acrylic panels have significant strength, are resistant to moisture, do not require special care and do not lose their original appearance for many years. If you buy high-quality products, they can last about 10 years. Installation of panels is quite simple and accessible even to a simple user. With minimal construction skills and a small set of tools, you can install acrylic products on any surface yourself.