Do you manage a company and wish to increase its efficiency? You are a low-budget novice businessman, thinking about how to improve interior design for your establishment to be prosperous? Are you a successful businessman who needs an urgent qualitative renovation of the commercial premises you have just purchased?
Grandeur Hills Group is always at your service. We offer the widest range of high-quality services for corporate clients, including interior design, renovation, remodeling, as well as room furnishing.
Interior design
Taking clients in well-designed rooms is much more profitable for you, because in this case your clients are more disposed toward your company. Beautifully decorated walls and ceilings, stylish furniture and decorative elements are bound to make your corporate premises attractive for your visitors.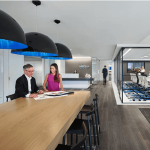 Renovation
Renovating your commercial premises is a great way to elevate the image of your company. You cannot afford to do business with corporate premises that do not completely or partly meet contemporary safety standards or just outdated. Grandeur Hills Group can help you solve this problem.
Thanks to our highly skilled and qualified staff with extensive renovation experience you will get the renovated premises that are bound to satisfy your corporate needs in the shortest possible time.